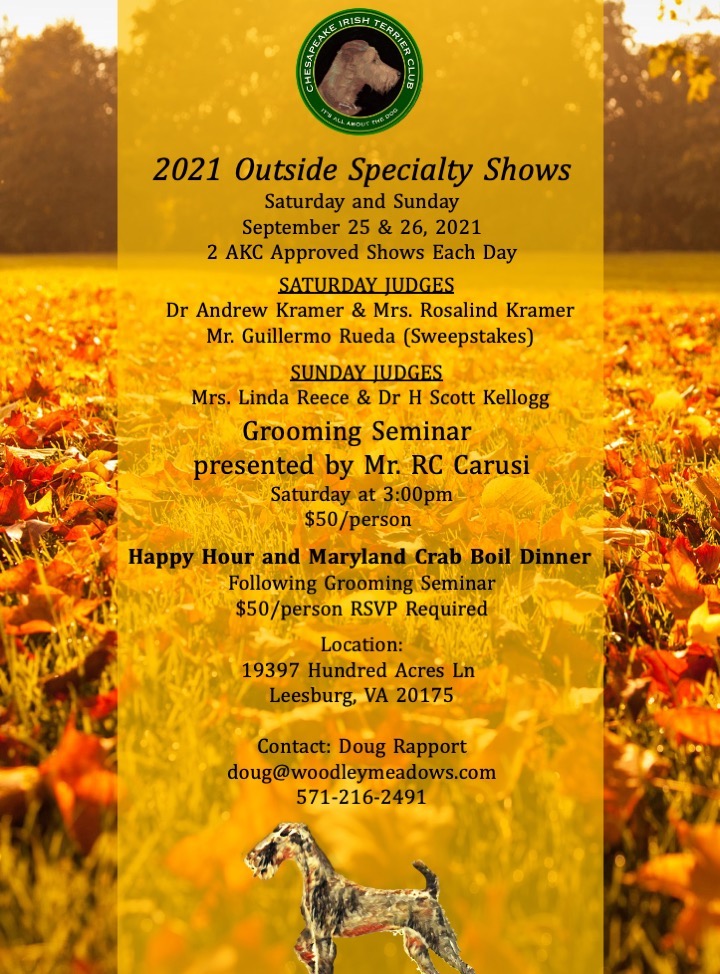 There is a lot of work that goes into making these shows happen and they would not be possible without the help of so many people. First and foremost a big thank you to all the supporters who entered the shows as well as the many professional handlers who attended. We had people come from all over the country to the shows: from Texas, Indiana, New England, West Virginia, New Jersey, Maryland and Virginia.
Congratulations to all of the winners! We had 19 beautiful Irish Terriers show during the weekend and 1 new Champion as well as 1 New Grand Champion.
We could not have had the shows without the wonderful judges: Andrew Kramer, Natalia Kunze, Roz Kramer, Linda Reece and Scott Kellogg.
R.C. Carusi gave an amazing hands-on grooming seminar where he went around to all of the participating dogs and gave grooming advice on how to get the most out of them. To say it was an amazing afternoon would be a vast understatement. THANK YOU RC!!!
Donations of trophies and prizes were provided by Terry Cassidy, John Childers, Doug Rapport, the ITCA and Purina.
Beautiful rosettes/ribbons and amazing stewarding by Cully Leck make these shows extra special for all involved.
Professional photographer Bryan Sirotkin from B.S. Photography took amazing candids and win pictures all weekend long.
The show Committee of Kelly Edwards, Mechele Lee, and Angie Meehan (also was the Show Secretary) as well as Sean Meehan were invaluable in the preparation and support during the show.
The club brought in lunch both days (Chik-fil-A and Jersey Mike's) as well as dinner on Saturday (Mission BBQ). This was supplemented with drinks during the show of coolers filled with water, flavored sparkling water and Arizona Tea. On Saturday afternoon we also had beer and wine.
And finally, pending AKC approval The Third Annal CITC Outside Shows will be held on October 1 & 2, 2022!
Again thanks for all of the support,
Doug Rapport
President – Chesapeake Irish Terrier Club
Show Chairperson